~ ~ ~ GAME RULES ~ ~ ~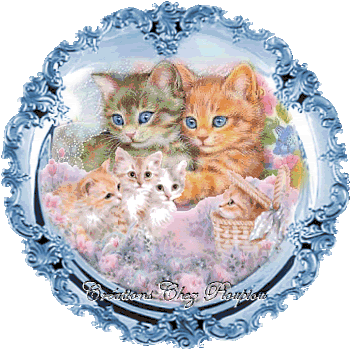 ~~~~Tournament Rules~~~

1. Sign Up - Register for the tournament.

2. Check In - 30 Minutes prior to the first round, check in to show that you are present for the tournament.

Check in closes about 5 minutes before the first round, so be sure you aren't late.

If you fail to check in, you will be dropped from the tournament.

For team tournaments, only the team must check in, not each individual.

3. Check Pairings - Check the pairings a few minutes prior to the round start time.

This will tell you who you are matched up to play for the current round.





~~~CANASTA~~~

WELCOME TO MY CANASTA TOURNEY

Table settings

2 CANASTAS

2 DRAWS

CHECK WILDS

UNCHECK NO PILE

NO TIMER

ALLOW TIPS

ALLOW ALL PLAYERS

ALLOW TO REPLACE

UNCHECK ALLOW TO SEE HAND

ALLOW WATCHERS

UNCHECK MUTE WATCHERS

NO RATED GAMES

CHECK PRIVATE ** PW brats

PLEASE CHECK TABLE SETTINGS

LET THE HOST KNOW IF THEY ARE WRONG

PLEASE STAY AT THE TABLE WHEN THE GAME IS OVER AND THE LAST HAND IS COMPLETED

UNTIL ALL PLAYERS AT THE TABLE HAVE REPORTED IN THE LOBBY AND AGREE ON WIN

IF THERE IS A DISPUTE THEN HOST CAN VERIFY BY COMING IN AND LOOKING AT SCORES

IF DISPUTE OCCURS AND THE TABLE IS EMPTY, THEN GAME WILL BE REPLAYED WITH HOST AS WITNESS

THE HOST HAS FINAL SAY IN ALL DISPUTES!

THANK YOU ALL FOR PLAYING AND GOOD LUCK!






~~~CANASTA 4 PLAYER~~~

(Same table settings as 2 player canasta)

Two members of the same household may not partner

If your partners is MIA
You may choose to play with a bot or ask for a sub

When your partners returns they will replace bot or sub

If your partners is booted a second time
they will not be able to play till next round

The sub will play the remainder of the round

If both players are missing they will be put on timer
if they time out they will lose that round

Have a Great time Brats and Good Luck!!



~~~Triple Play Canasta~~~

Welcome to my canasta tourney

This will be one hand with high score winning.

This is SE (single elimination)Triple play

Please remain in room for all 3 tournaments.

Table settings

1 canastas

2 draws

check wilds

uncheck no pile

no timer

allow tips

allow all players

allow to replace

uncheck allow to see hand

allow watchers

uncheck mute watchers

no rated games

check private ** pw brats

please check table settings

let the host know if they are wrong

please stay at the table when the game is over the hand is completed

until all players at the table have reported in the lobby and agree on win

thank you all for playing and good luck!







~~~CRIBBAGE~~~

Welcome to Cribbage Tour

**RULES FOR CRIB**

1st name called sets table plz

uncheck all options

no skunks..no timers

game length 121 points

allow players to replace bot

allow players to watch

uncheck limit

uncheck watchers to see hand

no rated games plz

make table private with pw brats

after game post winner//non winner

Good Sportsmanship appreciated such as ty, gl , gg

ENJOY THE GAME AND GOOD LUCK



~~~EUCHRE~~~

Welcome to my Euchre tourney

Table settings:

Uncheck 1st three boxes

Check "Player to left of dealer always plays first"

Score to "11"

Check to allow players to replace computer after game starts

Don't limit players joining the game

Check allow players to watch

Don't mute or allow watchers to see hands

Check "End round early(TRAM)"

No rated games

Check to make private using league pw "brats"

Thank you all for playing and Good Luck!!










~~~FORTUNE BINGO~~~

WELCOME TO POGOBRATS BINGO TOUR!!!

PLEASE GET PEN/PENCIL READY TO KEEP SCORES OF YOURS AND YOUR OPPONENTS

YOU NEED TO KEEP TRACK OF BOTH SCORES IN CASE YOUR OPPONENT GETS BOOTED

REPORT SCORE AFTER EACH GAME IN LOBBY....

GM(GAME) GM 1=SCORE,GM2=SCORE

IF U WIN A VIRTUAL PRIZE U WILL BE GRANTED 50 PTS FOR SPIN

REPORT BOTH WON TOKENS AND SPIN AND IF YOU BINGO COUNT THAT BONUS TOO!

WHEN EACH ROUND IS OVER PLEASE POST IN LOBBY WINNER//LOSER

WE PLAY 4 GAMES PER ROUND

THANK YOU FOR PLAYING!!

GOOD LUCK AND HAVE FUN!!!





~~~FORTUNE BINGO~~~
3 CARD

Welcome to three card bingo

we will play 3 games per round

after each game post your score including spins

IF U WIN A VIRTUAL PRIZE U WILL BE GRANTED 50 PTS FOR SPIN

please keep track of yours and your opponents score

host will calculate and give winners and next prs

most important is to sit back and have fun

as always respect your fellow brats and roomies gle1







~~~FORTUNE BINGO~~~
Blackout
Welcome to blackout bingo

we will play 3 games per round

after each game post your score including spins

IF U WIN A VIRTUAL PRIZE U WILL BE GRANTED 50 PTS FOR SPIN

please keep track of yours and your opponents score

host will calculate and give winners and next prs

most important is to sit back and have fun

as always respect your fellow brats and roomies gle1





~~~GOLF SOLITAIRE~~~

WELCOME TO Brats GOLF SOLITAIRE TOUR

WE WILL PLAY ONE GAME PER ROUND

A GAME STARTS ON HOLE 1 AND ends on HOLE 5

TIP: BONUS ROUND CAN HELP GET -1 CARDS FOR TAKING POINTS OFF, WILDS,AND CARDS TO UNFREEZE OTHER CARDS

THE PERSON HIGHEST ON THE BOARD

WITH LOWEST SCORE AFTER FINAL HOLE WILL BE DECLARED THE WINNER

PLZ POST IN LOBBY AS WINNER///NONWINNER

THERE WILL BE NO BREAKS UNLESS HOST SAYS THERE IS ONE

THANKS FOR COMING, GOOD LUCK, AND HAVE FUN PLAYING GOLF SOLITAIRE!!





~~~HOG HEAVEN SLOTS~~~

WELCOME TO HOG HEAVEN TOUR!

HOG HEAVEN RULES

WE WILL PLAY FOR 10 MINUTES

PLEASE GIVE YOUR TOKEN COUNT WHEN NAME IS CALLED.

THE HOST WILL SAY GO GO GO WHEN IT'S TIME TO START

WHEN TIME IS UP PLZ STOP PLAYING IMMEDIATELY

PLZ POST TOKEN COUNT

THE HOST WILL CALCULATE THE TOKENS AND ANNOUNCE

THE HOST WILL ANNOUNCE PAIRINGS FOR NEXT ROUND

ARE THERE ANY QUESTIONS?

GL E1 WE HOPE YOU ENJOY THE GAME





~~~JUNGLE GIN~~~

y--WELCOME TO MY GIN TOUR y--

CHECK OKLAHOMA GIN

NO TIMER

UNCHECK "DON'T ALLOW KNOCKING

ACES LOW

SCORE TO 300

LEAVE MULTI GAME CHECKED

CHECK ALLOW TO REPLACE

MAKE PRIVATE WITH LEAGUE PW "BRATS"

CHECK TO USE THESE OPTIONS

NOW LET'S HAVE FUN!






~~~LOTTSO~~~

WELCOME TO MY LOTTSO TOUR ...LETS DOT THOSE BALLS

AN ENTIRE 10 ROUND GAME IS EQUAL TO 1 MATCH ROUND

WHOEVER IS HIGHER ON THE LEADER BOARD ADVANCES AS WINNER

PLEASE ANNOUNCE WINNER ///LOSER AFTER MATCH ENDS

HAVE A GOOD TIME AND GOOD LUCK!!

GL E1 & MOST OF ALL HAVE FUN!!!!!!!



~~~PINOCHLE~~~

WELCOME TO MY PINOCHLE TOUR

TABLE SETTINGS 90 SEC TIMER

POINTS TO END OF GAME 500

CHECK NEXT 4 BOXES

ALLOW PLAYERS TO REPLACE

DO NOT LIMIT PLAYERS

ALLOW PLAYERS TO WATCH

GAME UNCHECK SEE HAND

MAKE TABLES PRIVATE WITH PW BRATS



POST IN LOBBY WINNER////NONWINNER REMAIN AT TABLES UNTILL ALL PLAYERS HAVE REPORTED AND HOST ACKNOWLEDGES WIN

GOOD LUCK HAVE FUN NOW LETS GET THE PARTY STARTED



















~~~POGO BOWL~~~



WELCOME TO POGOBRATS POGO BOWLING TOUR Join Us and Have Fun!!! y-- y--

WE WILL PLAY ALL 10 FRAMES

GAMES ALWAYS START AT FRAME #1

AND ENDS ON FRAME #10

PLZ KEEP TRACK OF OPPONENT ON LEADER BOARD

AFTER ALL SCORES ARE IN

REPORT IN LOBBY AS.WINNER/////LOSER

THERE WILL BE NO BREAKS BETWEEN EACH ROUND

UNLESS HOST STATES OTHERWISE

GOOD LUCK ALL

GET THOSE STRIKES!






~~~POPPA ZOPPA~~~

Welcome to our Poppa Zoppa tour

We will play all 3 Rnds

Whoever is higher on the leader board at the end of the round}

will win that round

PLEASE post in the lobby

Winner // Loser & wait for next round.

Breaks between rounds are upto the Host

Now here we go, Have a Great time & hope you enjoy the tour Brats\:\

CAN YOU MAKE THE 36 CHAIN?/8'





~~~QWERTY~~~

Welcome to my Qwerty Tour!

Table settings and Rules:

600 pt game

no timer

uncheck allow both players to see letters

check show querty word board

uncheck always arrange the stars

check allow to replace bots

uncheck limit players

check allow watchers

uncheck for watcher to see hand

no rated games

check private game with pw brats

good luck brats ! Enjoy the game!





~~~SCRABBLE~~~

Welcome to my Scrabble tour!!!

Table setting are:

Check "allow players to replace after game starts"

No limits on ratings

Allow watchers

No rated games

No muting the host

set table as private PW....brats

Advanced setting are:

End game "200"

GameTime Limit: 25 minutes

Check first box

Uncheck next two boxes

Check the last six boxes

Thank you for playing and good luck!!!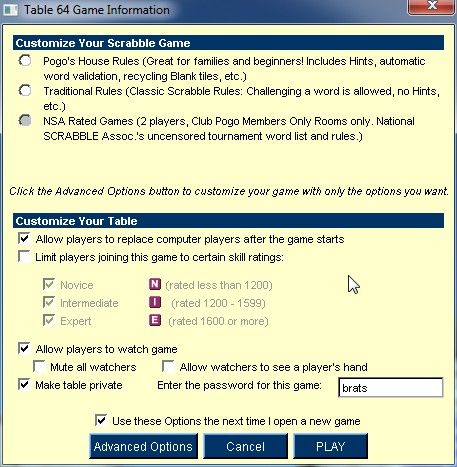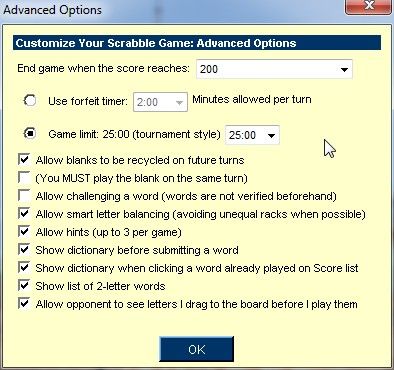 ~~~SPADES~~~
(partners)

WELCOME TO SPADES TOUR

PLS MAKE SURE YOUR TBL SETTINGS ARE CORRECT BEFORE YOU SIT DOWN !!

SET YOUR TBL AS FOLLOWS:

THE HOST WILL CHK THE TBL TO BE SURE ITS CORRECT.

UNCHECK ALL 2's count

CHECK CANNOT LEAD SPADES TILL SPADES ARE BROKEN

CHECK PASS 1 CARD TO PARTNER FOR BID

CHECK NIL

UNCHECK BLIND // BLIND NIL

GAME IS TO 500

NO TIMER CHECK TO SUGGEST BIDS

CHECK SHOW TIPS

CHECK FAST ANIMATION

CHECK ALLOW PLAYERS TO REPLACE

CHECK ALLOW PLAYERS TO WATCH (NO MUTING the HOST LOL)

CHECK END RD EARLY(TRAM)

ADVANCED OPTIONS (on the next page of tbl settings)

UNCHECK 1ST TWO BOXES ON THIS PAGE (CUT CARDS BEFORE EACH DEAL & PASS TWO CARDS TO P FOR BLIND NIL

BIDDING AREA SHOULD BE MARKED As 4, 4, 4, 100

PLAYER LEFT OF DEALER LEADS FIRST TRICK

IN OVERBOOKS CHECK BOXES ON NORMAL & NIL BIDS

UNCHECK ALL BOXES ON REST OF PAGE!!

CHECK TEN TIMES THE ENTIRE BID

CHECK NIL AND PARTNERS BID

PASSWORD IS BRATS

AS ALWAYS PLS ENJOY THE NEW GAME & HAVE A SPADERIFIC TIME BRATS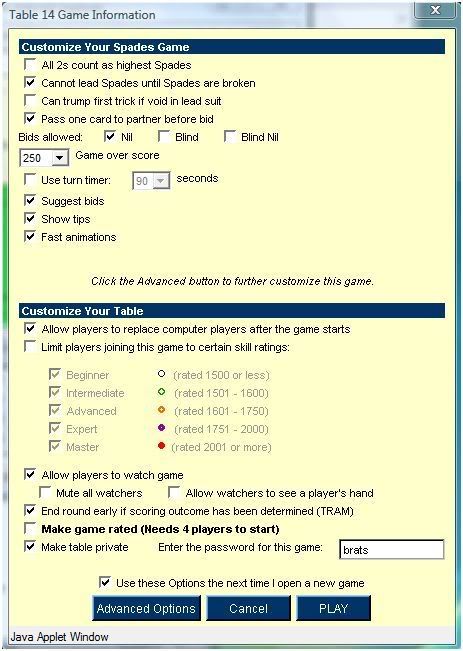 ~~~WORLD CLASS SOLITAIRE~~~


welcome to my World Class Solitaire tour!

we will play for 10 minutes

please give your token count when name is called.

the host will say go go go when it's time to start

when i say stop pls stop and post token count

the host will calculate the tokens and announce

winner///nonwinner

are there any questions?

gl e1 and hope you enjoy the game





~~~VAULTS OF ATLANTIS~~~


WELCOME TO MY VAULTS OF ATLANTIS TOUR

WE WILL PLAY FOR 10 MINUTES

PLEASE GIVE TOKEN COUNT WHEN NAME IS CALLED

THE HOST WILL SAY GO GO GO WHEN IT IS TIME TO START

WHEN I SAY STOP PLS STOP AND POST TOKEN COUNT

THE HOST WILL CALCULATE THE TOKENS AND ANNOUNCE WINNER/////NONWINNER

ARE THERE ANY QUESTIONS?

GOOD LUCK ALL ENJOY THE GAME